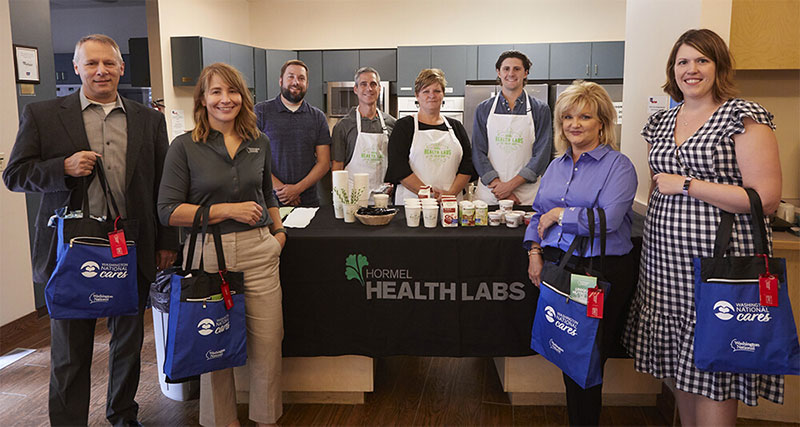 The Hormel Health Labs team treated guests at the American Cancer Society Hope Lodge in Rochester, Minn. to desserts while donating more Hormel Vital Cuisine™ brand products
The Hormel Health Labs Ice Cream Shop, which debuted this summer in Austin, provided Hope Lodge guests with Hormel Vital Cuisine 500™ protein shakes, Magic Cup® Frozen Desserts, Sin Free™ Sorbets and Plus-2™ Protein Energy Shakes.
"This is the first thing I've been able to really taste the flavor with in a long time," said one guest after enjoying a Sin Free™ Sorbet.
The event was part of the Hormel Health Labs partnership with Washington National Insurance Company (a part of CNO Financial) to provide comfort to those undergoing cancer treatment and recovery. Washington National donated "comfort care kits", which feature Hormel Vital Cuisine™ ProPass whey protein supplement.
It wasn't just desserts and kits that guests were able to enjoy. The casual conversations, ranging from family history to football and everything in between, were a welcome comfort for both the guests and Hormel Health Labs team alike.
The event also gave the Hormel Health Labs and Hormel Foods teams a chance to check in with former Hope Lodge resident and Hormel Inspired fan, Lucy Bernas. Last year, Hormel Foods donated a year's worth of Hormel Vital Cuisine™ to the Rochester Hope Lodge in Lucy's honor. To everyone's delight, Lucy was able to attend the event and speak firsthand about her progress and the impact of the donation.