Your resource for understanding and overcoming dysphagia / swallowing disorders
What is dysphagia?
Dysphagia is the medical term for all types of swallowing disorders. Though dysphagia affects millions of people, many haven't heard of it, and aren't aware of how large an impact swallowing difficulties can have on someone's life. This hidden burden can turn the pleasure of eating into a fearful and embarrassing chore. When it's hard to swallow, it's hard to dine with delight.
How common is dysphagia?
Dysphagia is most common among the elderly–an estimated 40% of nursing home residents have dysphagia–yet people of all ages can be affected, including those who have experienced stroke, head or neck injuries or cancers, Multiple Sclerosis, Parkinson's disease, dementia, and other illnesses. About one in every 25 adults experiences difficulty swallowing each year.*
What are the symptoms of dysphagia?
Dysphagia can can be dangerous in some instances when it triggers choking or vomiting, and when food or liquids are inhaled it can lead to aspiration pneumonia. Not being able to eat or drink normally can impact someone's health and well-being, too. Many with dysphagia find eating to be difficult and tiresome. They are often served unappetizing, uninspired pureed foods and get bored with the lack of variety. Losing interest in eating makes it difficult to get the nutrition they need to maintain their health–leading to weight loss, dehydration, and malnutrition.
What resources are available to help those with dysphagia?
At Hormel Health Labs, we work tirelessly to improve the eating experience for those with swallowing problems. That's why we've become a leader* among those helping people with dysphagia, and we are here to help however we can. We are proud to be a platinum supporter of the International Dysphagia Diet Standardization Initiative (IDDSI).
To eat more safely and comfortably, dysphagia sufferers often require foods and beverage of specific textures and consistencies. Solid foods often need to be soft or pureed. Beverages often need to be thickened.
Our THICK & EASY® brand products are created specifically for people with dysphagia, crafted by expert chefs, dietitians and food scientists who understand the swallowing pathology and the importance of making food look and taste great.
Standards
People with dysphagia should consult with their medical practitioners, often including a dietitian and a speech language pathologist (SLP), to specify an individual eating plan. There are two common standards that are used to specify what consistency of foods people should consume.
The IDDSI Framework
Under the IDDSI Framework (learn more), liquid and solid foods are assigned a consistency on a scale from 0 (thin liquid) to 7 (regular solid food).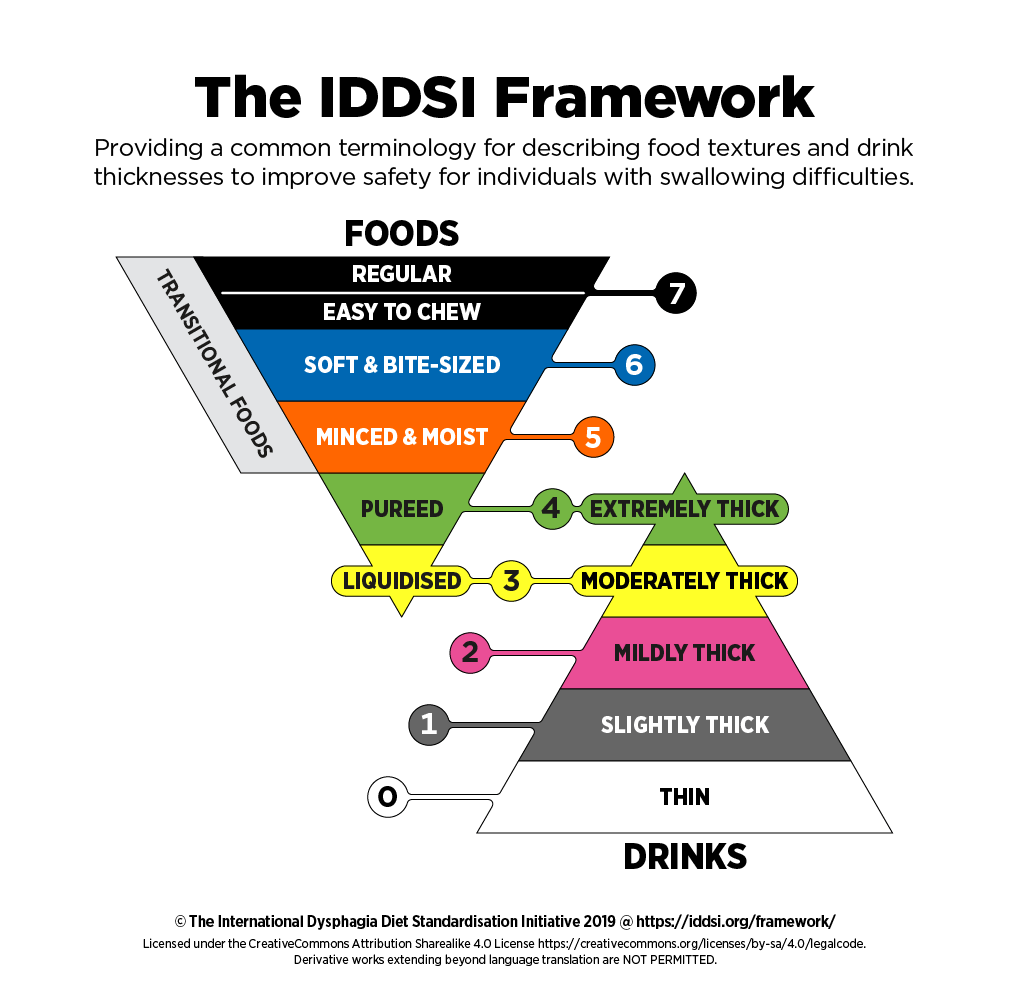 Prior to establishing the IDDSI framework, the NDD, or National Dysphagia Diet, was the common standard (read about the switch from NDD to IDDSI). Foods were rated as Level 1 (pureed), Level 2 (mechanical altered), Level 3 (soft foods) or regular food. Liquids were classified by viscosity as Thin, Nectar, Honey, and Spoon-thick. You may still encounter these terms being used.
Our THICK & EASY® products are a convenient, delicious way to deliver good nutrition in the required consistency to all patients with swallowing disorders. The products, a wide variety of delicious foods that range from beverage thickeners to snacks, meals, and even breads and rice, are available online for easy delivery.
Through our THICK & EASY® brand and other products, our team at Hormel Health Labs is proud to be leading the way to a more enjoyable, nutritious and convenient eating experience for millions of people with dysphagia.
*Sources:
Incidence of Dysphagia:
https://www.asha.org/PRPSpecificTopic.aspx?folderid=8589942550&section=Incidence_and_Prevalence
*We are the only provider of a full range of products for those with dysphagia, including foods, thickeners, thickened beverages and thickened dairy products.