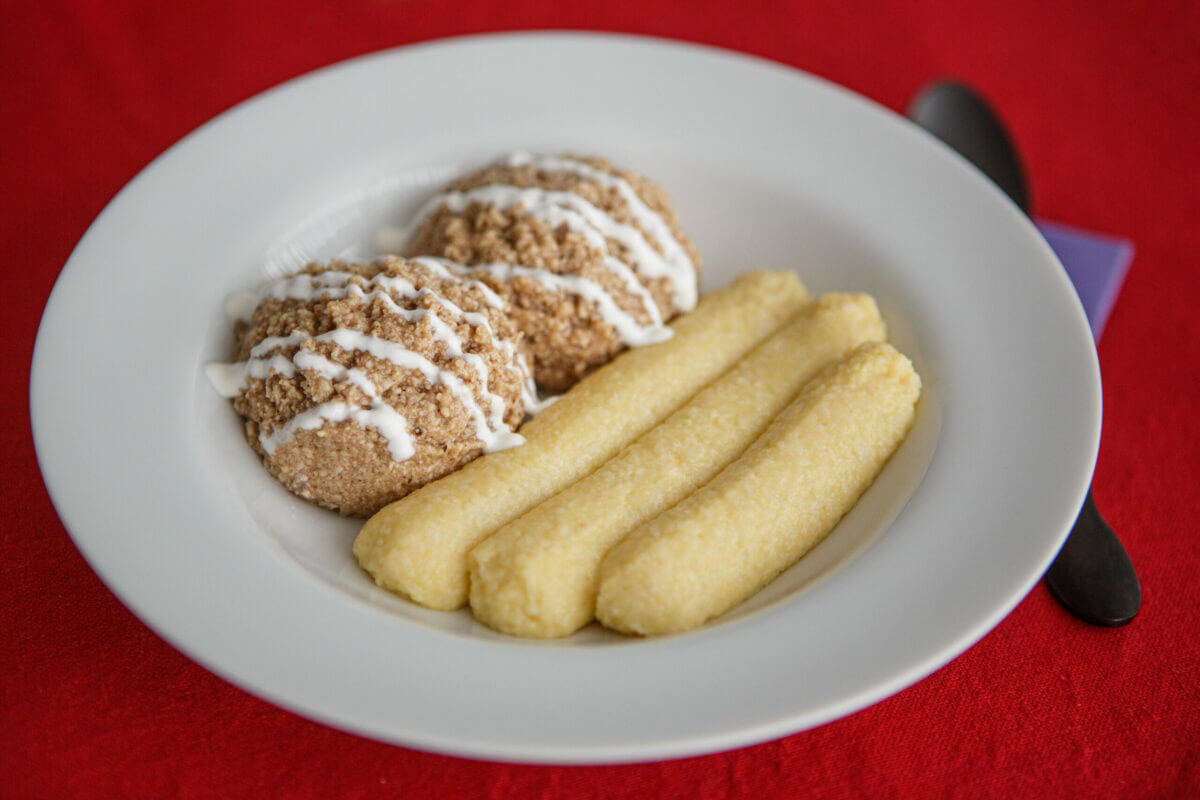 Moist and succulent minced chicken marinated in a sweet and spicy Jerk Sauce topped with our version of Festival and finished with a peach mango crema. Meets IDDSI Levels 5, 6 & 7!
DIRECTIONS
HOW TO PREPARE:
Cornbread Festival
Heat the Thick & Easy® Bulk Pureed Corn per package instructions to 165°F. Set aside.
Brown the butter in a saucepan on medium high heat being careful not to burn. Set aside.
Completely mix sugar and onion powder into Thick & Easy® Texture Modified Bread and Dessert Mix.
Add vanilla extract and melted browned butter and stir until mixture is completely blended and resembles wet sand.
Str in hot milk with a fork or whisk until completely blended.
Fold in heated pureed corn. Set aside and keep warm.
Jerk Chicken
Heat Thick & Easy® Level 5 Minced Chicken per package instructions to 165°F.
Combine heated chicken and Jerk sauce in a large bowl and stir until well blended. Set aside and keep warm. NOTE: Before serving, always test for Level 5 using IDDSI guidelines. Add additional sauce if meat mixture is too dry or crumbly; or add a small amount of Thick & Easy® Instant Food & Beverage Thickener if too wet or thin.
Mango Crema
Place sour cream into a medium mixing bowl. Add Thick & Easy® Sugar Free Peach Mango Drink, IDDSI Level 2 and whisk together until well blended.
Pour into a squeeze bottle for service and presentation.
Assembly
Using a 12 oz bowl, portion a 6 oz portion (rounded #6 scoop) of the corn festival mixture onto one side of bowl.
Portion ½ cup (about one #8 scoop or two #16 scoops) of Jerk chicken on other side of bowl.
Drizzle with about 2 Tbsp. of peach mango crema.
Reheat to serving temperature, if needed.
Calories: 540
Total Fat: 27g
Saturated Fat: 13g
Trans Fat: 0.5g
Cholesterol: 115mg
Sodium: 830mg
Total Carbohydrates: 55g
Dietary Fiber: 1g
Total Sugars: 25g
Added Sugars: 3g
Protein: 21g
Vitamin D: 4% DV (0.8mcg)
Calcium: 8% DV (100mg)
Iron: 2% DV (0.5mg)
Potassium: 4% DV (210mg)