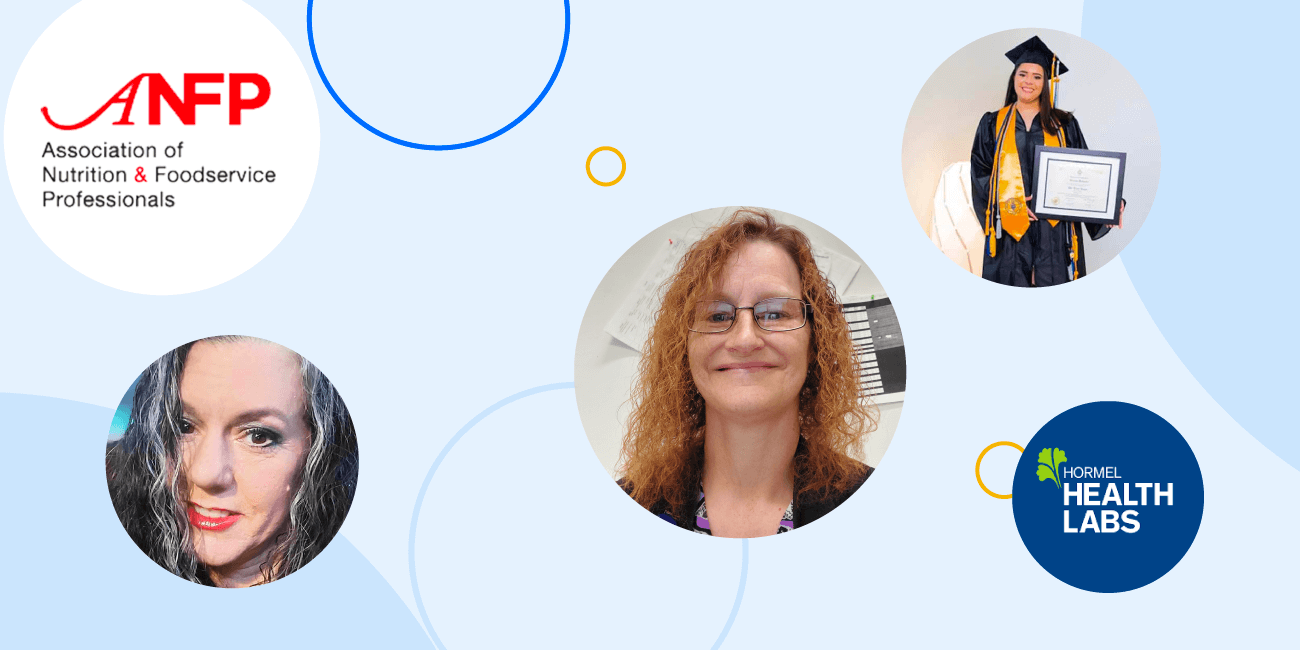 Hormel Health Labs + ANFP Student Grant recipients reflect on community, the crossroads of food and nutrition, and their dreams of giving back.
"A desire to serve and not be served." This is a sentiment shared by Patricia M. Dickerson, Rosanna Fernandez and Yvonne Schoubye, the most recent winners of Hormel Health Labs + ANFP Student Grants.
Every year, Hormel Health Labs partners with the Association of Nutrition & Foodservice Professionals (ANFP) to present this grant to applicants looking to further their education and involvement in foodservice. This year's winners are jumping right in to do exactly that. We had a chance to speak with them to learn more about their unique stories and what this grant means to them.
Food as Medicine
Rosanna's vision for the future of nutrition is one of thoughtfulness. On her father's side of the family, diabetes is a common obstacle, meaning Rosanna appreciates, more than most, the hurdles faced by diabetics every day. In fact, this is partly what inspired her to get involved in the nutrition field. A self-taught pastry chef, Rosanna wants to eat delicious foods, and have new, exciting culinary experiences. She knows there's a way to do so and feel confident about her dietary choices at the same time. "I wanted to learn how to take care of my body by eating healthy food, [and] how to treat diabetes," she says, "I think my community will benefit from a chef who not only cares about tasty foods, but also about nutrition."
Today, Rosanna is using the grant to pay for the last course she needs to qualify for Dietary Management Certification. "The grant means the world to me. It's giving me the opportunity to put some credentials under my name." In the future, Rosanna plans to attend the Pastry Academy by Amaury Guichon in Las Vegas and eventually open her own bakery full of health-conscious (and tasty) baked goods. She says, "Food is medicine, and I would like to help others enjoy food in the most nutritious way."
A Life of Service
"I've worked in the food service industry since I was 15," Yvonne Schoubye says, "I have worn many hats." A small peek into Yvonne's background underlines this. At 15, she got her first job as a Pizza Hut waitress and has since learned to decorate cakes, worked at a catering company for 16 years. After the catering company closed, she became a purchaser and caterer for Henry County Medical Center in Paris, Tennessee. She eventually became supervisor.
Now, Yvonne is in the process of obtaining her Dietary Management Certificate. When asked about winning the grant, she says it's meant more to her than most people could ever know. "I cried," she remembers. "I would have had to pay for the course on my own, and I wouldn't have been able to take it." Thanks to the grant, Yvonne is on track to add CDM to her long list of credentials by October 2023.
Trusting the Process
Patricia Dickerson is also eager to make her name in the field, one way or another. Currently dual-enrolled at Hinds Community College and University of North Dakota, she is earning her associate degree in arts as well as her food protection and dietary management certificate. While she doesn't know where life will take her, she also says, "I trust where I am now."
Where she is now is a point of great pride for Patricia, a single mother of two boys. She dropped out of high school, survived on welfare and has battled addiction for much of her adult life. Patricia was certain another path would never materialize. "I did not believe I would be successful at anything," she says. But by 42, she was drug-free. She worked at a hospital in laundry services and transitioned to the patient-tray line. Seven years later, she had worked her way up to first level manager and supervisor. "I want to be a shining light for others," Patricia says. "You can conquer anything, and it is never too late."
Looking to the Future
"Out of so many great students and stories, you don't expect to be chosen," Rosanna says of receiving the grant, and Patricia and Yvonne feel similarly. "I was whooping and hollering like I had just won the jackpot," Patricia says. Yvonne "never in a million years" thought she would be selected. Along with this gratitude, though, comes a boundless dedication from Rosanna, Patricia and Yvonne alike. "As for my community and this field," Patricia says, "they are going to get the hardest-working, most-caring, and now a little more knowledgeable, loving professional. It's not easy, but it's worth it."