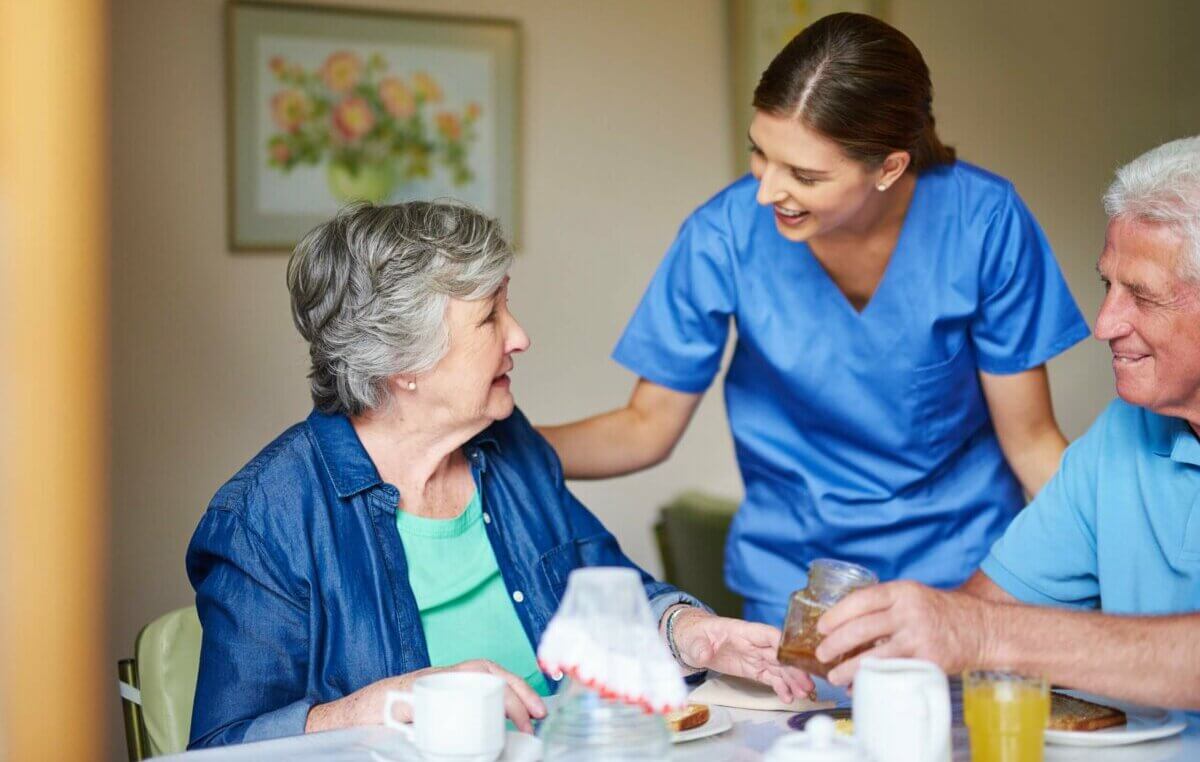 Helpful tips for improving the dining experience for the residents at your facility.
By Cherie Furlan-Craievich RD, Food Services Consultant
Person-centered dining promotes the health and wellbeing of long-term care (LTC) residents and thus improves their eating and drinking experience. Corporate menus may lead to rigidly-structured and task-focused meals with limited opportunity for residents to choose when and what they want to eat and with whom they dine. We also know that relationships between team members and residents in LTC can have a big impact on the mealtime experience.
The mealtime practices of team members can also improve person-centered dining for all residents, particularly those who need eating assistance and those who do not communicate with words. The atmosphere and physical aspects of the dining room can also play a big part in creating a relaxing and enjoyable dining experience. Reflect on your current practices and learn how to create a welcoming and comfortable dining environment for your residents.
Here are some ideal practices to help improve the resident's eating and drinking experience:
Layout
Create options for flexible dining by having tables for one, small groups or family style.
Consider other locations in the care center where you can have a themed/special meal or a change of scenery.
Clear clutter out of the dining room (empty chairs, extra carts, dirty dish carts, etc.)
Furniture
Use adjustable furniture to cater to individual resident needs, such as adjustable height tables.
Use homelike furniture and décor, or even artwork picked by residents.
Use tablecloths or placemats that contrast with the dishes to help draw residents' attention to the food on their plate, such as light-colored plates on a dark tablecloth/placemat.
Lighting/Sound
Play music that residents will enjoy and that is not too loud.
Place the dirty dish cart out of site and ensure scraping of dishes is done with a rubber spatula.
Keep the med cart out of site and do not crush medications during the meal.
Ensure the lighting is not too bright or too dim; close blinds/curtains if there is a lot of glare.
Ambiance
Make sure the dining room smells like food by preparing some food in the service area, such as toast or coffee or even bring a bread machine.
Ask residents if the temperature of the dining room is okay.
Connect with Residents
Ensure residents are happy where they sit and who they sit with.
Socialize with residents at the table, even with those who communicate without words.
Make eye contact, smile, and use gentle touch with those who are non-verbal.
Allow residents to stay for as long as they like; offer them another cup of coffee, or chat with them.
Dine with Pride
Ask residents if they want a clothing protector on before assisting them with putting on.
Ask residents how you can assist them and let them know what you are doing before you help them, especially those who are non-verbal.
Use a napkin or warm cloth to wipe residents' mouths instead of their clothes protector.
Ask them if they are finished eating/drinking before removing their plates or glassware.
Offering Support
Assist residents who need help as soon as the food arrives to their table and verbalize to them what they are eating especially when feeding them.
Use safe practices when assisting to feed residents and provide continuous eating assistance until they are finished eating.
Observe for nonverbal cues to determine if a resident does not like something or is finished.
Treat Residents as Individuals
Ask them their preference for beverages, main entrée, dessert, and snack choices.
Offer something they may want to eat if they don't want to eat what is on the menu.
Know their mealtime traditions and respect their choices of condiments/seasonings/etc.
Create Opportunities for Participation
Get residents involved with mealtime activities i.e., table setting, putting out drinks, etc.
Don't rush them to finish eating regarding of how long it takes them to eat.
Support them to eat on their own through verbal or physical prompts and use of assistive eating utensils, hand over hand support, and visual prompts.
Assist in planning theme meals or other fun activities to engage residents at mealtimes (sundae cart, choice of toppings on salad, etc.)
Create a Warm, Welcoming Environment
Ensure medications are delivered at the beginning and end of the meal.
Make sure residents receive their food in a timely manner.
Don't call out to other team members from across the dining room.
A move towards person-centered dining can help enhance the mealtime experience for all. The team members, the atmosphere and the physical aspects of the
dining room are all key factors in improving the resident's quality of life during, in many cases, some of the last days of their lives.