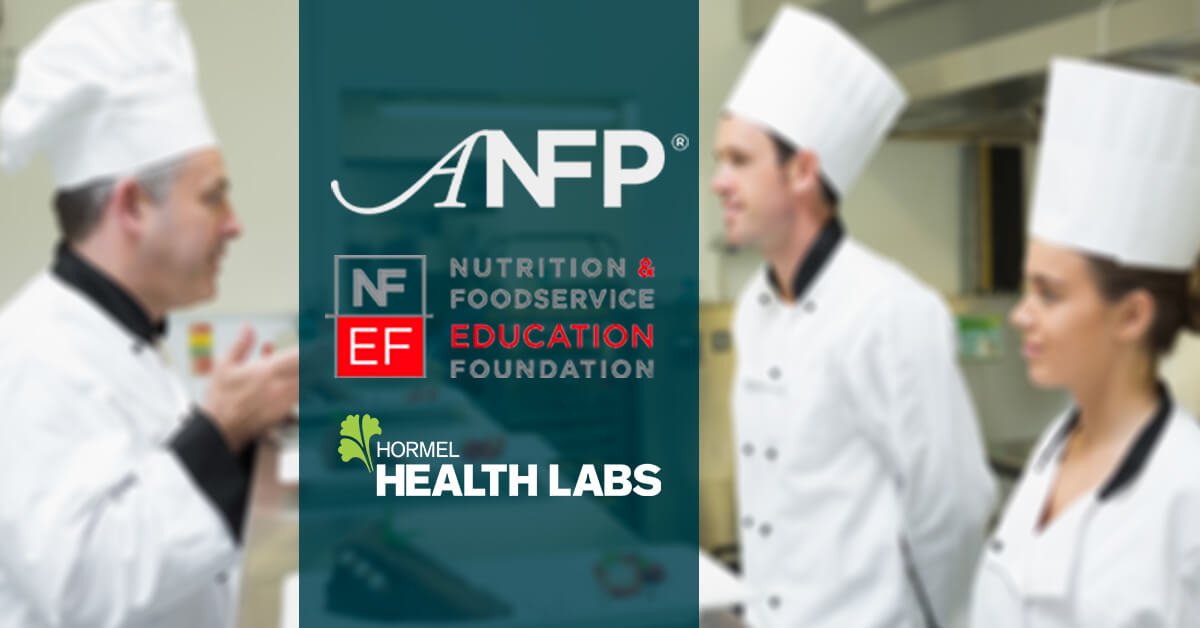 Meet the 2020 Hormel Health Labs Student Grant winners!
By Luke Woodard
Hormel Health Labs knows how important our food service workers are. In restaurants and assisted care facilities across the United States, millions of men and women work around the clock to ensure that we have hot food on our tables.
Since 2017, Hormel Health Labs has worked closely with the Association of Nutrition and Foodservice Professionals to offer a scholarship for those individuals who wish to pursue advanced certifications and expand their knowledge of the field. For their continued dedication and desire to help others, we are honored to present the following people with the 2020 Hormel Health Labs Student Grant.
Khalan Pendleton
Born in upstate New York, Khalan always knew he wanted to work in a kitchen. He was attracted to the technical proficiency and discipline that such a fast-paced environment demands. When he was 16, he got a job bussing tables at a restaurant in New Jersey. Since then he has worked himself through the ranks, spending time as a dishwasher and prep cook before earning a spot on the cooking line at a number of recognizable restaurants.
Khalan also spent a number of years working as a director of medical supply at an assisted care facility—an opportunity that gave him a window into the healthcare world: the other major facet of the food service industry. During his time in this position, Khalan began to understand the importance of credentials and certifications. "There are so many skilled, dedicated workers who have spent years in the industry," he says, "but without the resources to continue their education, they aren't able to take those next steps to further their careers."
Khalan earned his bachelor's degree in labor relations and is currently pursuing a master's in the same field. He works as an assistant teacher at Rutgers University, where he hopes to combine his two passions, designing a course about "food service from a labor perspective."
Alongside his master's degree responsibilities, Khalan is enrolled in an online food service program through the University of North Dakota. He plans on using this scholarship to pay for his Certified Dietary Manager exam. Khalan has come a long way from those early days in New Jersey, but he isn't done yet. He hopes to start a program that would provide workforce training and certification options for young people who are considering a career in food service. "My ultimate goal," he says, "is to one day start a scholarship of my own."
Drew Horstman
Born and raised in Omaha, Nebraska, Drew has spent half his life in the food service industry. He started out with a catering company before transitioning into a hospital kitchen. Drew was working long hours, turning out "thousands of meals a day," but he found meaning in the knowledge that every meal he prepared was going to a person in need.
Two years ago he accepted a position at a Madonna Rehabilitation Hospital, a move that would define the rest of his career. Madonna is a smaller facility, and staff members work closely with patients to provide long-term care. "Right away I liked it," Drew says. "That silver lining I found before—the feeling of helping take care of someone—became the essence of my job."
He has since risen to the position of production supervisor, becoming fascinated by the idea of medical nutrition, also known as nutrition therapy. Drew describes it as "using tailored nutritional intervention within healthcare settings to combat disease or improve quality of life." Nutrition therapy often complements other forms of medicine, turning food into another tool of recovery.
Drew plans to use this scholarship to finance his Certified Dietary Manager exam, a credential that represents the next step towards his goal of becoming an executive chef. He intends to stay in the healthcare field, continuing to explore the ways in which nutrition can improve patient outcomes. "It's easy to take food for granted," he says, "but when it comes to our patients, what they eat can change their lives."
Jessica Kerns
Jessica lives in Winchester, VA where she works in the dietary division of Advanced Health MD. *(Jessica could not be reached for this story.)