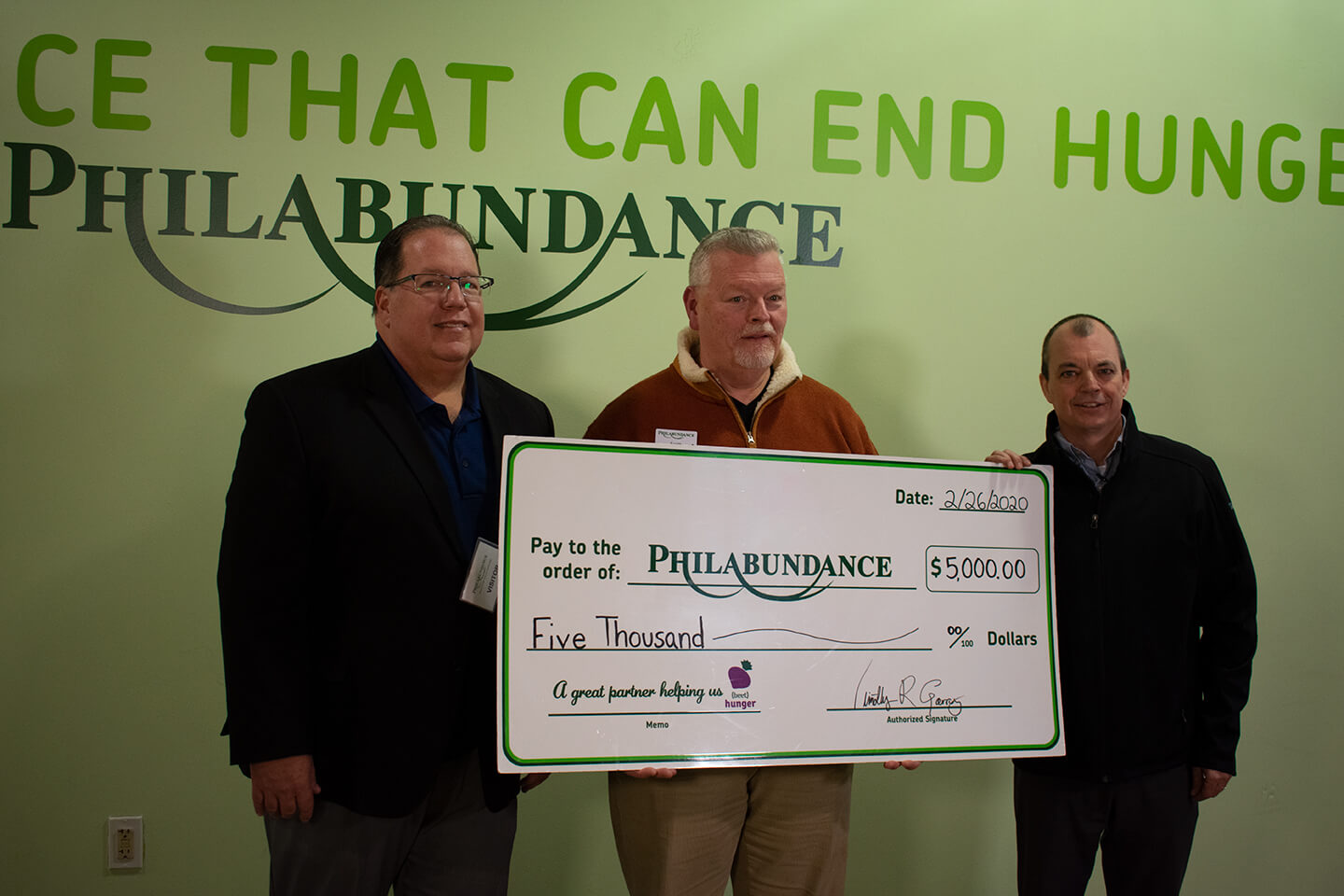 In February, members of the Hormel Health Labs team headed to the City of Brotherly Love to visit Philabundance, the Philadelphia area's largest hunger relief organization, and present them with a $5,000 donation.
The Hormel Health Labs team first collaborated with Philabundance at the 2020 Food & Nutrition Conference & Expo, and after learning more about their hunger relief efforts, they wanted to help.
"We met with people that are full of passion to take care of those in need in Philadelphia, and that passion is infectious", said Hormel Health Labs Director of Marketing, Tim Garry.
In Philadelphia, the hunger crisis is considered severe. Director of Business Development at Philabundance, Scott Smith, painted a picture of how dire the situation in Philadelphia truly is:
"About 1 in 5 individuals in Philadelphia are food insecure. Nationally, that's about 1 in 8, so really in Philly it's considered a crisis of people who are trying to provide for their families."
Philabundance helps alleviate the hunger pressure by distributing food from their South Philly facility all across the greater Philadelphia area to those in need. Last year, Philabundance and their member agencies donated over 26 million pounds of food. On a weekly basis, they serve 90,000 throughout the Delaware Valley who are food insecure.
A $5,000 donation goes a long way towards supporting those efforts. "That's approximately 10,000 meals, so when you think of a family of 4, think about how long that could stretch", said Smith.
For the Hormel Health Labs team, it feels good to be able to support these efforts that are having a direct impact on the communities they work in. "It means a lot to me as a Hormel employee and makes me proud to be with HHL", said Garry. "We recognize that food insecurity is prevalent and it's another way for us to help out that vulnerable adult that's trying to be independent and to get nutrition into their homes."
You can learn more about Philabundance's efforts by visiting www.philabundance.org.