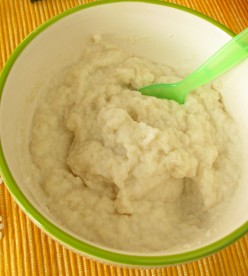 Add protein to your rice cereal with PROPASS® Instant Whey Protein Supplement Powder
Ingredients:
3 Tablespoons rice cereal
1 1/2 cups 2% reduced fat milk
2 scoops PROPASS® Instant Whey Protein Supplement Powder
Directions:
Bring milk to a boil
Gradually add rice cereal, stirring constantly with wire whisk until blended. Return to a boil.
Reduce heat to low; simmer uncovered, stir frequently for approximately 2 1/2 minutes
Add PROPASS® Instant Whey Protein Supplement Powder mixing with wire whisk until fully dispersed
Yield: 12 oz
Serving size: 8 fl oz
Calories: 180
Total fat: 4 g
Sodium: 250 mg
Total carbohydrate: 23 g
Protein: 12 g
Featured Product
Hormel Vital Cuisine® PROPASS®
Vital Cuisine® ProPass® Whey Protein Supplement Powder provides 6 grams of high quality protein and 30 calories for improved nutrition. It disperses easily and enhances the protein content of the food without changing the taste. Each canister supplies 26 servings and a scoop for easy measuring or pre-measured packets are also available. A good source of protein in every serving for individuals challenged to achieve sufficient protein requirements in their everyday diets is both convenient and versatile and can be added to any beverage or food throughout the day.