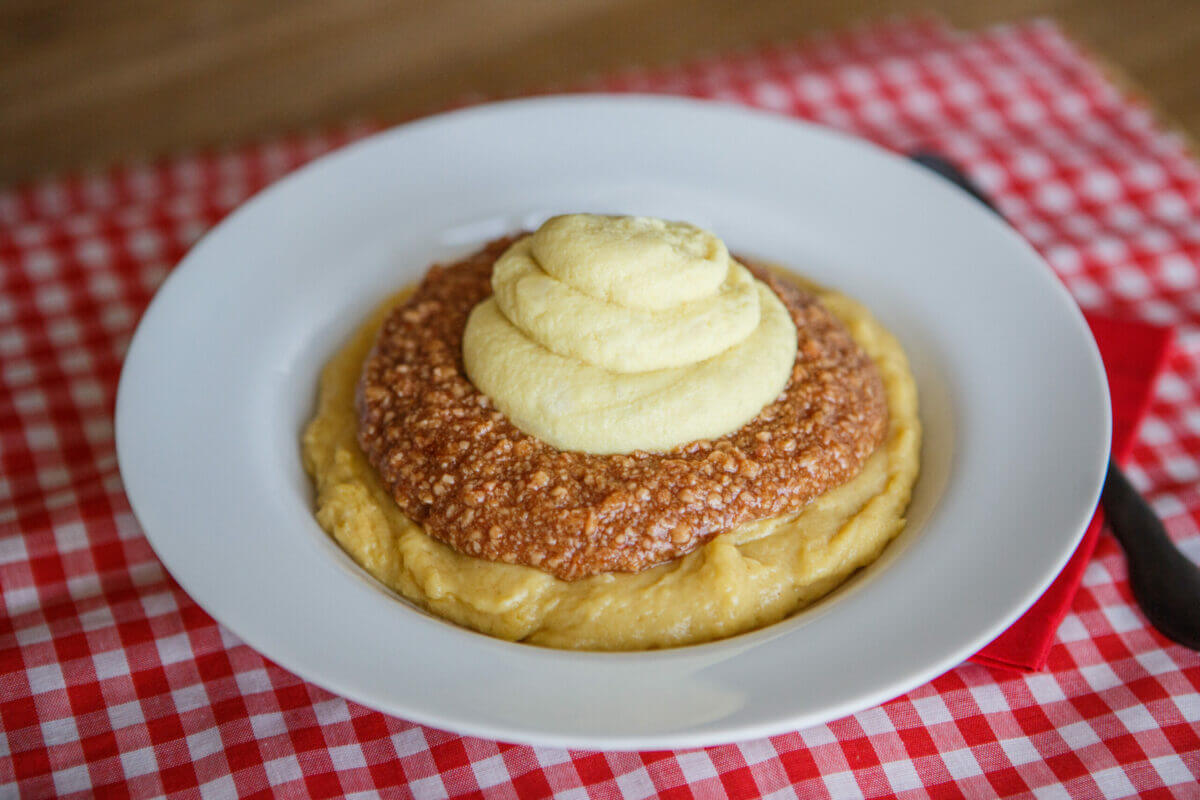 This delicious dish combines all of the BBQ favorites: brown butter-infused summer sweet corn, minced sweet country BBQ pork and a tangy southern potato salad.
INGREDIENTS
6 SERVINGS
12 SERVINGS
Prepared Mashed Potatoes
3 cups
6 cups
Heavy Duty Mayonnaise
1/4 cups
1/2 cup
Yellow mustard
2 Tbsp
1/4 cup
Sweet pickle brine
2 Tbsp
1/4 cup
Thick & Easy® Level 5 Minced Pork, thawed
Item: 114403
3 cups (1 bag)
6 cups (2 bags)
Sweet BBQ Sauce of choice optional
12 oz
24 oz
Thick & Easy® Bulk Pureed Corn, thawed
Item: 18637
½ of a 2 lb bag
(about 5 ½ cups)
1 – 2 lb bag
Salted Butter
1 stick (8 Tbsp)
2 sticks (1 cup)
DIRECTIONS
HOW TO PREPARE
Whipped Potato Salad
Combine mayonnaise, mustard and sweet pickle brine. Add to prepared mashed potatoes and blend well.
Cover and let rest in refrigerator.
BBQ Pork
Heat Thick & Easy® Level 5 Minced Pork per package instructions to 165°F.
Combine heated pork and BBQ sauce in a large bowl and stir until well blended. Set aside and keep warm. NOTE: Before
serving, always test for Level 5 using IDDSI guidelines. Add additional sauce if meat mixture is too dry or crumbly; or add a small
amount of Thick & Easy® Instant Food & Beverage Thickener if too wet or thin.
Corn
Heat the Thick & Easy® Bulk Pureed Corn per package instructions to 165°F. Pour into a bowl, cover and set aside.
While corn is resting, place butter in a saucepan and melt over medium high heat. It is important to watch the butter during this
process as it can burn quickly. Observe butter until it begins to brown and gives off a toasted nutty aroma, remove from heat
immediately.
Add browned butter to corn and mix until completely blended.
Assembly
Choose a bowl or walled plate.
Portion 1/3 cup (#12 scoop) pureed corn into bowl.
Top with ½ cup (#8 scoop) of BBQ pork and finish with about ½ cup whipped potato salad.
To enhance the appearance, try placing whipped potato salad in a piping bag and piping in a swirled motion on top of BBQ pork.
Reheat to serving temperature and serve warm.
Serving Size: 1/2 cup BBQ pork, 1/3 cup corn, 1/2 cup whipped potato salad
Calories: 640
Total Fat: 37g
Saturated Fat: 17g
Trans Fat: 0.5g
Cholesterol: 110mg
Sodium: 1300mg
Total Carbohydrates: 62g
Dietary Fiber: 3g
Total Sugars: 5g
Added Sugars: 2g
Protein: 19g
Vitamin D: 0mg (0% DV)
Calcium: 30mg (2% DV)
Iron: 1.9mg (10% DV)
Potassium: 260mg (6% DV)